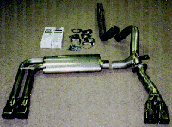 Here is a picture of the Borla Stainless Steel Street Strip
Cat-Back system that I had installed. IMHO it is the best system on the market
Here is a picture of the Hypertech Power Programmer Plus that fine tunes the car's computer.
I have since sold it. It really is just a glorified fan switch. If you have an automatic tranny or change gears/tire size a lot it is more beneficial. I had Steve Cole at TTS reprogram my PCM after my head and cam swap. More recently I have gone with LT1_Edit software which is much better!!!!


This is a picture of the B&M Ripper. It has shorter
throws than the stock shifter and it has adjustable stops.
This really is a great mod. Get one!
Crane Gold Self-Aligning Roller Rockers. Nice looking, too bad they are hidden by the valve covers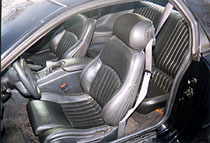 Here is a picture of the Leather interior that I bought from a guy that trashed his '95 Trans Am. Bad experience for him, but I am glad I was able to pick it up. One of the things I really wanted was the leather seat option, but couldn't find it when I was looking for my car back in 1994.
Check out my t-top page of their install!!!




Picture will be here





Here is a picture of the Motive GM 3.73 Gears and SLP take off Torsen LSD.

**Never installed these..Sold them and bought a 12 bolt***