My 1994 Firebird Formula
I sold my Formula in April of 2003. By May of 2003 it was totaled in an accident. It did get dynoed prior to the accident. It put down 449hp and 409ftlb or torque at the wheels. Click here to view the dyno graph. Using the 15% drivetrain loss that most do this is around 525hp and about 490ftlb of torque at the crank. A little lower than I would expect from such an expensive project, but it would have easily been in the 11s.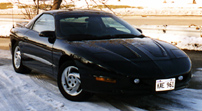 I own a black '94 Firebird Formula. This is a picture of it (click on it to see more). It comes factory equipped with a 350 c.i. LT-1 that is rated at 275hp and has a six speed manual transmission. It rides on 245/50/ZR16 tires paired to a suspension that is not for the softies.
Here is a list of the mods so far (see years):
Long time ago :-)
In 1995 I completed some minor modifications to increase the performance of the car. As you probably know, you can never have too much power. They were: Home Made 4" Intake, BORLA Exhaust, disabled CAGS (Computer Assisted Gear Selection), Removed MAF Screen, 160 Thermo, B&M Ripper, Accel Coil, Energy Suspension's Torque Arm & Tranny Mounts, Redline D4 ATF & Rear Diff fluids
The summer of 1996 I added to the bolt on modifications by adding Crane Gold Self Aligning 1.6 Roller Rockers. I also installed Leather Interior of a 1995 Trans Am that was in an accident. The interior was Graphite Grey and was a perfect swap. I bought both front and rear seats and the door panels. I didn't like the door panels so I kept my stock ones on (same color). I also had to replace my clutch. I had the dealer install a McLeod Clutch. My impressions of it aren't that great. It holds as well as the stock clutch, but added a little tranny noise.
1997
In December of 1997 I added to the already great performance of my Firebird Formula by installing Ported & Polished Heads, Impala SS Head Gaskets (to raise compression ratio), a CompCams Xtreme Energy 218/224 Cam, Mac 1 5/8" Headers/Y-pipe and Off-Road (no Cat) pipe which I sand blasted and then re-coated with Tech-Line's Colorguard Thermal/Corrosive Header Barrier in Deep Blue (looks Great!), a Keyed Hub, disabled the EGR, bypassed the throttle body heating and installed Rapidfire #3 spark plugs. Click here to see some pictures of these Mods. I also have recently picked up an Air Compressor and a number of air tools that make working on cars a lot easier.
1998
Most recently I added the following (summer '98): TTS Custom PCM Reprogram, Jacobs Ceramic Boot Plug Wires, 58mm BBK Throttle Body, Accel 300+ ignition box and I replaced the bearings with Federal Mougel OE replacement bearings since I was having a problem with oil pressure dropping at 3/4 to full throttle. Check Out my new Auto/truck Lift (you read correctly!).
1999
I got rid of a few things like the Mac Headers, Comp Cams Xtreme Energy 218/224 cam, Jacobs Ceramic Boot Plug Wires, Accel 300+ ignition box & McLeod Clutch.
In winter 1999 (well most of '99) my 396ci Stroker Rebuild! Included in the mods of this rebuild are forged JE/SRP pistons, Forged Eagle ESP 6" Rods, a forged Cola 3.875" stroke crank, Comp Cams 306 cam, 4 bolt splayed conversion using ARP studs, ARP SBC Head studs, Clevite77 Race bearings (which the builder swapped for Federal Mougel), Canton 6qt oil pan, Melling M55hv oil pump and Canton custom pickup tube, CSI electric water pump, Hooker Long Tube headers, Modern Musclecar custom y-pipe, SLP's clutch disk and pressure plate, a Pete Jackson "Silent" gear drive timing set, Magnecor 8.5mm custom length wires. I also purchased Electromotive's SDI system (optispark eliminator and coil packs) that allow me to run the motor without the stock Optispark distributor which is prone to water damage. For engine management I am going to stick with a custom PCM by TTS for a while and then think about DFI. I will also be adding a Hotchkis STB. I may upgrade the rear end to a strange 12 bolt when I get the money.

1999 has been one of the longest projects I have been involved with. The completion of the short block ended up taking about 3 months. The builder had some setbacks and that was very frustrating. Then the shop I had install my larger valves in my heads (2.00"I/1.56"E) took about 1.5 months to do a valve job and some simple blending. After flowing the heads I was extremely disappointed. The before flow #s on the intake were almost the same as the after flow #s with the larger valves. The exhaust woke up some, but not to the point that I would say it was $700 well spent. In short, I do NOT recommend upgrading your valves from the stock size if it is an added cost in the porting. Just get a good porter and some good stock sized valves (I was using Manely Race Flow SS stock size before).
Performance with the 396ci and associated mods:
1) Noisy. The car is loud. Exhaust note and engine noise. The gear drive is very noticeable and may need some more tweaking of the timing cover.
2) No dyno #s yet, but I can light up the tires while driving about 20mph just by hammering the gas (no slipping of the clutch). So the torque has definitely improved. Before this I could never light up the tires in any gear without slipping the clutch a little.
3) It pulls very hard all the way to about 6000rpm. At about 4000-5000 it does seem to pull a little less which I think is attributed to the computer pulling about 8 degrees of timing advance out of the curve. This is probably due to some noise that the Knock sensor is letting the computer see. Not sure if it is real or not, but I did put some 100 octane gas in and I still get knock retard.

Conclusion: A stroker motor is a nice way to build more torque and HP if you want to do it NA. It has been a challenge so far, but I am not exactly taking the easy road either (gear drive, e-motive SDI etc). I am also doing this all by myself instead of having a tuner do it for me and I just pick it up a few months later. Once I sort out some of these final tuning issues I will be heading to the track or the dyno (well probably both :-) ).

2000
The winter of 2000 I pulled my PJ gear drive out and installed a Cloyes 9-3145 double roller timing set. Remember if you have a '92-'94 LT1 you need to upgrade to the '95 optispark and timing cover to use this. If you have a '96+ you need to tune out the PCM use of the CPS and remove the CPS reluctor wheel on the crank snout and get a longer '93-'95 hub.
Also, in the spring I started hearing of Canfield heads for LT1s and the great results people are seeing. So I decided to pull my heads off and get a set of Ported Canfields from MMC (Canfield Heads, etc!!). I pulled the motor apart in April and finally got it together in September!! The delay was mostly due to grad school and other family obligations. So most of 2000 is shot with regard to driving and getting the car dialed in. In addition to the heads I got a lot of suspension parts from Steve Spohn (www.spohn.net). To fit the Spohn torque arm I had to build a custom Y-Pipe for my Hooker Long Tube headers. I also installed a Bosch intank pump. Man that thing was HUGE compared to the stocker. Easily 3 times larger. I had to rewire the fuel tank for the new pump. I wasn't comfortable with doing the work at first, but researched it a little and gained that confidence. To tune the car I decided against DFI and went with LT1_Edit. This software is used in a win95+ environment and allows you to completely tune your stock PCM. It is incredible. The guys behind it are always updating the features as well which is great!! I picked up a set of '98 f-body dual piston front calipers, spindles, rotors, pads from a junk yard and will be installing them. I had my friend Larry Kurek sand blast all the parts and they turned out looking VERY sharp!! See the links below for some other of my pages.
Winter 2000/2001
After a terrible day at the track in November (best mph 116 in the 1/4 mile....goal is 120) I decided it was time to make hopefully the final changes to the car. I had to buy yet another clutch (3rd one so far) and took the plunge and got the best on the market....The McLeod Street twin. I also decided to go with a Moser 12 bolt rear end since I don't want to worry about hammering the gas and getting stranded due to a grenade rear. In addition to this a couple of guys installed t-tops in their stock hardtop cars. I looked into it and went for it.
Winter 2001/2002
After some very disappointing track results (click here) I decided to pull the motor and rework it. The problems I am aware of are:
1) Minor smoking while idling
2) Excessive oil on all spark plugs when removed (pix here)
3) Very poor mph/et in the 1/4 mile
4) Bad rotating assembly vibrations (McLeod flywheel out of spec..surprise)
5) Multiple oil leaks
So, the reworking is going to include machine work on the block to deck the block to a zero deck, hone so new rings can be installed. All new hardened race bearings, notching the bores of the block to help unshroud the valves more, big solid roller cam and lifters, new 1.6RR and full race porting of my heads. Currently the heads are just pretty much as cast. I paid Mike @ Modern Muscle Car for an econo port when I bought the Canfields and that is far from what I got. I could have done a better "econo port" job myself. Greg of Greg's Auto Specialties and Service (815-690-1234, Lakemore, IL) is handling the porting, cam selection, motor rebuild and a trusted shop that he knows is handling the machining/balancing. He has spent a significant amount of time with me discussing options on performance vs drivability.

So far his analysis of the motor is that there was an obvious oil control problem (knew that), the valve job sucked and the valves were not sealing properly in the seats (not good for performance of course), the heads needed major work porting wise and the intake gaskets had shifted when the intake was last installed since there are no holes for the tabs to lock the gasket in place. According to his modeling, all should end up well with the motor producing between 550 and 600HP at the motor NA when he is done with it. Click HERE for my winter 2002 rebuild page.
Spring of 2003
I sold my Formula in April. It was totaled a month later. Not sure if there is anything salvageable, but now I really wish I didn't sell. it. If the motor, trans, clutch, rear etc cannot be salvaged then $40,000 of my hard earned money went down the tubes. Not only that, but the guy I sold it to doesn't get to enjoy it either. BTW, he was not the one driving. An employee of a performance shop was after some tuning was done. Maybe more on that later depending on the outcome of the fiasco.

All text and pictures on this site are Copyright © 2003 David Wendland - www.dw-zone.com